Protecta® Rebel™ 420 lb. capacity self-retracting lifeline supports workers and gear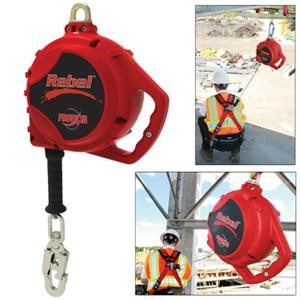 Provide crews with fall protection strong enough to support workers carrying heavy tools. This aluminum-housed Protecta® Rebel™ self-retracting lifeline is equipped with a 33' galvanized cable and offers a 420-pound capacity can support a user and tools, and helps improve employee safety, confidence, and productivity.
Features include a swivel carabiner with a gate strength of 3,600 pounds and a built-in impact indicator. The retractable line offers additional safety by extending and retracting automatically to reduce the risk of trips, minimizing fall clearance, and keeping fall forces to a minimum with an innovative speed sensing brake.

Ideal for construction, oil and gas, and other industries with fall risks, the Protecta® Rebel™ Self-Retracting Cable Lifeline with Galvanized Cable & Aluminum Housing, 33' meets OSHA and ANSI standards and does not require yearly recertification. Its rugged aluminum housing ensures the lifeline will hold up during rough use, and a stackable design allows multiple SRL's to be neatly organized for quick and easy access on the worksite. Top swivel and swivel hook limit lifeline twisting and an ergonomic cable handle adds comfort, while providing easier connections.

Give workers durable fall protection that helps them perform their jobs safely and easily. The Protecta® Rebel™ self-retracting lifeline provides exceptional strength and the ability to carry a worker and tools.
Go Back to Safety News
---