Deliver lightweight fall protection with a Protecta® Rebel® self-retracting lifeline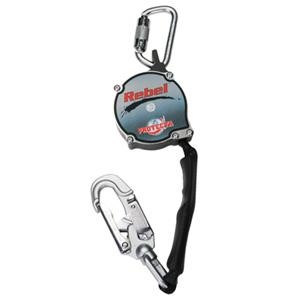 Employees will be confident working at heights when using the Protecta® Rebel® self-retracting lifeline (SRL). This SRL includes a ¾-inch swiveling snap hook, handy carabiner, and a 2.8 lb aluminum housing that makes it the most lighweight and compact 11-foot SRL available. 


Designed to ensure consistently smoother maneuvering, this lifeline delivers convenience and superior safety. It offers the best length-to-weight ratio of any lifeline in the industry and features an innovative brake that senses speed, lowering clearance requirements and minimizing fall arrest forces to less than 900 pounds. Protecta® Rebel® 11' Self-Retracting Lifeline with Carabiner & Swiveling Snap Hook offers extremely strong, thin webbing that adds length and provides enhanced security for the user. This SRL is easy to use, maintaining productivity and reducing fatigue, and meets OSHA and ANSI standards.


Equip workers with fall protection they can trust. Protecta® Rebel® is an ideal choice for construction, warehousing, longshoring operations, and other industries where falls are a concern
Go Back to Safety News
---