N-Specs® Riptide® Safety Glasses with Clear Anti-Fog Lens maintain vision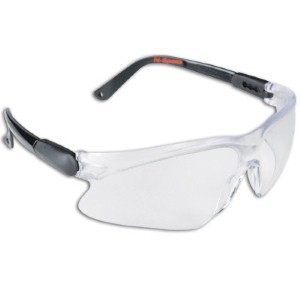 The eyes are perhaps the most fragile part of the body, and OSHA requires employers to ensure the safety of all workers - and this includes protecting their eyes. To help you make sure workers will wear their safety products, a wide assortment of safety glasses are available to fit a variety of workers.
Safety glasses protect the eyes from flying particles generated when grinding, using hammers and other hand tools, drilling, working on machinery, and much more. When working with hot machinery, it's important to see what you're doing, and if you walk away, being able to see where you're going. Tasks are more easily completed with the right safety eyewear, so you'll want to choose the N-Specs® Riptide® Safety Glasses with Clear Anti-Fog Lens.
Riptide® safety glasses are lightweight, so they're comfortable enough to be worn for long periods of time. Adjustable temples allow many different workers to wear the same model, and their anti-fog lenses make them quickly eliminate fogging.
N-Specs® Riptide® Safety Glasses comply with ANSI standards for impact resistance and provide excellent UV protection. Their cool look is popular with workers, and their great price helps you save more.
Go Back to Safety News
---