OSHA updates safety standards for electrical workers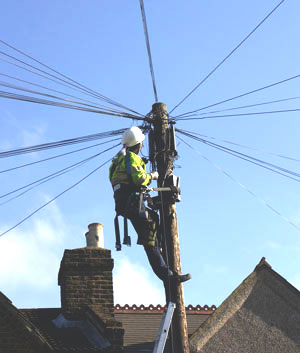 The Occupational Safety & Health Administration's (OSHA) final rule for Electric Power Generation, Transmission, and Distribution, and Electrical Protective Equipment became effective June 1, 2015. The rule unifies construction and general industry requirements to generally apply the same rules to the same types of work, and takes into consideration improvements in electrical safety technology.
The earlier Electric Power Transmission and Distribution for Construction standard was issued in 1972. It was followed by the Electric Power Generation, Transmission, and Distribution for General Industry Operation and Maintenance standard, in 1994. OSHA states that the new standards are easier to understand and apply, and will help employers establish safer policies to protect workers.
"This long-overdue update will save nearly 20 lives and prevent 118 serious injuries annually," said Dr. David Michaels, assistant secretary of labor for occupational safety and health. "Electric utilities, electrical contractors and labor organizations have persistently championed these much-needed measures to better protect the men and women who work on or near electrical power lines."
Important changes to these standards include:
Training – is to be determined by the risk hazard for a worker. Qualified workers must be trained to recognize and control, or avoid, electrical hazards on the jobsite. Line clearing tree trimmers must be able to identify exposed live parts and establish the voltage on those parts, then determine and maintain minimum safe distances.
Host contractors and employers – must share safety information and coordinate work procedures.
Fall protection – is required for qualified workers climbing or changing locations on poles, towers, windmills, and other structures. Fall equipment must be able to pass a drop test if the worker using the fall protection is exposed to flame hazards or electrical arc with heat energy of 40±5 cal/ cm2. Work positioning equipment must be set-up to limit a free fall to 2'.
Protection from flames and electric arc hazards – must be provided for workers exposed to electrical arc and includes protective clothing and protective equipment rated the same as or higher than the heat energy hazard that's been estimated.
The electrical protective equipment (EPE) – standard for construction applies to any construction work, not only power generation, transmission, or distribution. Class 00 rubber insulating gloves are now recognized as a new class of EPE. New requirements for EPE constructed of materials that are not rubber have also been adopted.
Foot protection – standards for general industry have been modified to make clear that employers must ensure workers use protective footwear as supplementary protection against electrical hazards that include static-discharge or electrical shock hazards.
Additional updates also provide for minimum approach distances and insulation, underground electrical installations, protective grounding, and de-energizing transmission and distribution lines and equipment. More information and standard details are available at www.osha.gov.
Enhance electrical safety at your worksites with electrical hazard protection training and the appropriate EPE equipment, to send workers home safe every day.
Go Back to Safety News
---