OSHA Online Reporting Goes Live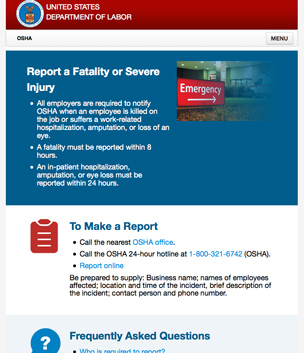 On December 24, 2015, the Occupational Safety & Health Administration (OSHA) released a new
webpage
for reporting on-the-job fatalities and injuries online. Previously, reports could only be made by phone to the closest local office or to OSHA's toll free number during non-business hours.
Employers are required to report a work-related employee fatality within 8 hours after a death. If an employee has a work related incident causing them to become a hospital in-patient, suffers an amputation, or loses an eye, it must be reported within 24 hours.
"Hospitalizations and amputations are sentinel events, indicating that serious hazards are likely to be present at a workplace and that an intervention is warranted to protect the other workers at the establishment," said Dr. David Michaels, assistant secretary of labor for occupational safety and health.
According to OSHA's
29 CFR 1904.39
the business and employee names, location, time, description of the incident, and a contact person and their phone number will be required to file an online report.
Go Back to Safety News
---