Cal/OSHA Offers Heat Illness Prevention Training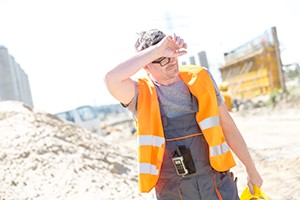 With the summer months fast approaching, Cal/OSHA reminds employers to protect their workers from heat illness. Any workers who spend a substantial portion of the shift outdoors should be aware of how to prevent heat illness. Examples include construction workers, agricultural workers, baggage handlers, electrical power transmission and control workers, and landscaping and yard maintenance workers.
"When it comes to preventing heat illness, employers with outdoor workers should not wait until it gets hot to review their procedures and ensure their training is effective," said Cal/OSHA Heat and Agriculture Program Coordinator David Hornung. "Workers should know the signs and symptoms of heat illness and what to do in case someone gets sick. This helps prevent serious and fatal heat illnesses while working outdoors."
California's heat illness prevention standard and its injury and illness prevention standard require employers to take these basic precautions:
Train all employees and supervisors on heat illness prevention.
Provide enough fresh water, so that each employee can drink at least 1 quart per hour, or four 8-ounce glasses of water per hour, and encourage them to do so.
Provide access to shade and encourage employees to take a cool-down rest in the shade for at least five minutes. They should not wait until they feel sick to cool down. Shade structures must be in place upon request or when temperatures exceed 80° F.
Closely observe all employees during a heat wave and any employee newly assigned to a high heat area. Lighter work, frequent breaks, or shorter hours will help employees who have not been working in high temperatures adapt to the new conditions.
Develop and implement written procedures for complying with the Cal/OSHA heat illness prevention standard, including plans on how to handle medical emergencies and steps to take if someone shows signs or symptoms of heat illness.
Cal/OSHA will also be hosting Heat Illness Prevention Training. To find the locations and dates of these trainings, you can check the Cal/OSHA website. If you can't attend the trainings, you can watch Cal/OSHA's webinar on Heat Illness Prevention on YouTube.
Go Back to Safety News
---