Fire Prevention Month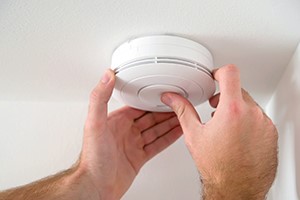 During the month of October, the National Fire Protection Association (NFPA) observes Fire Prevention Month. During this time, fire departments educate schools and communities and encourage the public to practice fire safety. This year's campaign is "Not Every Hero Wears A Cape. Plan and Practice Your Escape."
The NFPA encourages everyone to make a home fire escape plan and offers these tips:
Plan two ways to escape from each room
Make sure all doors and windows leading outside open easily
Identify secondary routes – a window onto an adjacent roof or a collapsible ladder from upper-story windows
If you live in a multi-story building, plan to use the stairs – never the elevator
Designate an outside meeting place a safe distance from the house where everyone should meet
The National Safety Council (NSC) reminds us that smoke detectors are vital to your escape plan. Three out of five fire deaths happen in homes with no smoke alarms, so it's very important to have a working smoke alarm.
The NSC says that cooking fires are the leading cause for home fires. They suggest the following guidelines:
Be alert; if you are sleepy or have consumed alcohol, don't use the oven or stovetop
Stay in the kitchen while you are frying, grilling, boiling, or broiling food
Keep anything that can catch fire away from your stovetop
The NSC identifies heating as the second leading cause of fire, and offers these tips:
Keep all flammables, like paper, clothing, bedding, drapes or rugs, at least 3 feet from a space heater, stove, or fireplace
Never leave portable heaters and fireplaces unattended; turn off heaters and make sure fireplace embers are extinguished before leaving the room
If you must use a space heater, place it on a level, nonflammable surface, like ceramic tile, never on a rug or carpet
Keep children and pets away from space heaters
When buying a space heater, look for models that shut off automatically if the heater falls over
The NSC also provides these general tips regarding fire prevention:
Institute a "no smoking" policy in the house
Check all cords and replace any that are frayed or have bare wires
Switch to flameless candles
Keep matches and lighters high and out of children's reach in a locked cabinet
For more information and resources regarding Fire Prevention Month, visit the NFPA's website.
Go Back to Safety News
---