Control Bacteria in the Workplace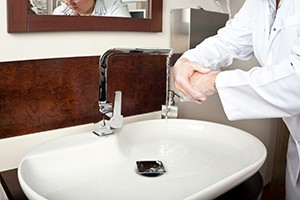 The Centers for Disease Control and Prevention (CDC) reports that there are 2.8 million non-fatal workplace illnesses and injuries every year, and many of them are a result of poor infection control. With just a few simple changes, employees and employers can enjoy a safer working environment and avoid spreading bacteria.
Problem Areas
Bacteria buildup is most significant on telephones, buttons, and door handles. Essentially, areas and objects that are shared carry most of the bacteria in the workplace. In some cases, smartphones have become more unhygienic than toilet seats, so employees should be encouraged to wipe down personal devices as well as shared devices to help stop the spread of infections.
Fight Back Against Bacteria
One of the most effective agents against fighting bacteria is UV light. In comparison to dark rooms, a room filled with UV light from the sun leaves half the amount of viable organisms. Sunlight can also help boost morale in the workplace.
The Washington State Department of Health offers these other tips:
Cover your nose and mouth with a tissue when sneezing, coughing or blowing your nose
Discard used tissues in the trash as soon as you can
Always wash your hands after sneezing, blowing your nose, or coughing, or after touching used tissues or handkerchiefs
Use warm water and soap to wash your hands. If you don't have soap and water, use alcohol-base hand gel or disposable wipes
The workplace can be a breeding ground for bacteria, but just a taking a few precautions can make it a safer place for everyone.
Go Back to Safety News
---