1-800-571-4646
For sales & customer support
7:30 am - 7:00 pm ET, Mon-Fri
Northern Safety Co., Inc.
PO Box 4250, Utica, NY 13504-4250
Phone: 1-800-571-4646
Fax: 1-800-635-1591
Northern Safety & Industrial
12 Halloween Safety Tips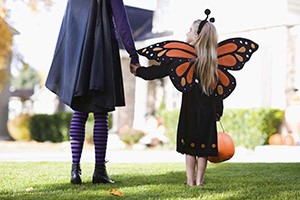 Halloween is quickly approaching and that means it's time to go over Halloween safety tips with your little Trick-or-Treaters.
Halloween is a fun-filled time for kids and parents; however, according to the National Safety Council (NSC) children are more than twice as likely to be hit by a car on Halloween than they are on any other day of the year.
The American Academy of Pediatrics (AAP) has put together a list of safety tips to keep everyone safe:
Costumes:
1. Plan costumes that are bright and reflective. Make sure that shoes fit well and that costumes are short enough to prevent tripping, entanglement or contact with flame
2. Consider adding reflective tape or striping to costumes and trick-or-treat bags for greater visibility
3. Because masks can limit or block eyesight, consider non-toxic makeup and decorative hats as safer alternatives. Hats should fit properly so they don't slide over eyes. Makeup should be tested ahead of time on a small patch of skin to make sure there are no unpleasant surprises on the big day
4. When shopping for costumes, wigs and accessories, look for and purchase those with a label clearly indicating they are flame-resistant
5. If a sword, cane, or stick is a part of your child's costume, make sure it's not sharp or long. A child may be easily hurt by these accessories if they stumble or trip
Trick-or-Treating:
6. Remain on well-lit streets and always use the sidewalk. If no sidewalk is available, then walk at the far edge of the roadway facing traffic
7. Carry a flashlight or attach a glow stick to costumes to stay well lit throughout the night
8. To keep homes safe for visiting trick-or-treaters, parents should remove from the porch and front yard anything a child could trip over such as garden hoses, toys, bikes and lawn decorations
9. Wet leaves or snow should be swept from sidewalks and steps
10. Review with children how to call 9-1-1 (or their local emergency number) if they ever have an emergency or become lost
Pumpkin Carving:
11. Candlelit pumpkins should be placed on a sturdy table, away from curtains and other flammable objects, and not on a porch or any path where visitors may pass close by. They should never be left unattended
12. Consider using a flashlight or glow stick instead of a candle to light your pumpkin. If you do use a candle, a votive candle is safest
By taking the proper precautions, this holiday can be safely enjoyed by all. Halloween should be a fun time for children, so be sure to follow these easy tips to ensure children's safety and allow for them to enjoy the festivities. Have a fun and safe Halloween!
Go Back to Safety News
---