1-800-571-4646
For sales & customer support
7:30 am - 7:00 pm ET, Mon-Fri
Northern Safety Co., Inc.
PO Box 4250, Utica, NY 13504-4250
Phone: 1-800-571-4646
Fax: 1-800-635-1591
Northern Safety & Industrial
Look Back at 2019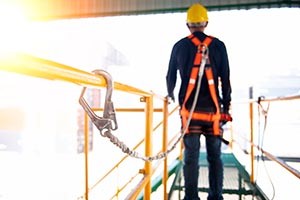 When Patrick Kapust, deputy director of the Occupational Safety and Health Administration's (OSHA) Directorate of Enforcement Programs, announced the Top 10 Violations of 2019 at the National Safety Conference last fall, the list was largely unchanged from 2018. Falls dominated the list again and have for more than five years.
Fall Protection – General Requirements (1926.501)
Hazard Communication (1910.1200)
Scaffolding (1926.451)
Lockout/Tagout (1910.147)
Respiratory Protection (1910.134)
Ladders (1926.1053)
Powered Industrial Trucks (1910.178)
Fall Protection – Training Requirements (1926.503)
Machine Guarding (1910.212)
Personal Protective and Lifesaving Equipment – Eye and Face Protection (1926.102)
Why is fall protection important? One reason is that historically, falls are the leading cause of fatalities in construction. Other industries that are negatively impacted are oil and gas extraction, shipyards, building cleaning and maintenance, and transportation. OSHA recognizes that incidents involving falls are generally complex events, frequently involving a variety of factors. Consequently, the standard for fall protection deals with both the human and equipment related issues that cause hazards. Proper personal protective equipment use, training, guardrails, safety nets, along with warning lines, designated areas, control zones all increase safety. OSHA provides up-to-date guidelines for fall protection to help employers reduce risk.
Go Back to Safety News
---