1-800-571-4646
For sales & customer support
7:30 am - 7:00 pm ET, Mon-Fri
Northern Safety Co., Inc.
PO Box 4250, Utica, NY 13504-4250
Phone: 1-800-571-4646
Fax: 1-800-635-1591
Northern Safety & Industrial
Motorcycle Safety Awareness Month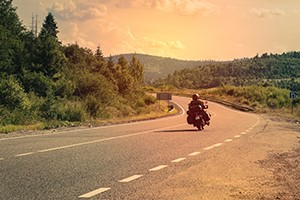 The National Highway Traffic Safety Administration (NHTSA) reminds motorists about safe riding and driving practices each May during Motorcycle Safety Awareness Month. This year's theme is Get Up to Speed on Motorcycles. By raising awareness, both riders and drivers will be safer on the road.

This year's campaign helps everyone understand standard motorcycle driving behaviors and learn how to drive safely around motorcycles. Did you know that per vehicle mile traveled in 2019, motorcycle riders were about 29 times more likely to be killed in an accident than those in passenger vehicles? Adhering to the following guidelines from the NHTSA can help reduce these dangerous incidents:
Slow your decision-making process down at intersections.
When turning at an intersection, wait until you have a full view of upcoming traffic to proceed.
Be patient.
When approaching a congested road, be diligent in changing your speed to match that of the other vehicles in traffic.
Allow motorcyclists a full lane width.
Motorcyclists can be easily hidden in blind spots. Always look for them by checking mirrors and looking over your shoulder before proceeding.
Signal your intentions before changing lanes or merging into traffic.
Allow more following distance between your vehicle and a motorcycle in front of you. Three to four seconds is recommended.
Go Back to Safety News
---