OSHA to enforce residential fall protection regulations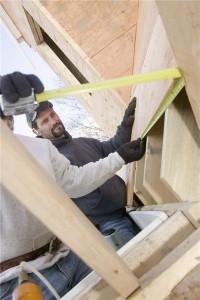 In June of 2011, the Occupational Safety and Health Administration (OSHA) set new directives for fall protection regulations involved with the residential construction industry. These changes will strongly affect industry professionals such as roofers, weather proofers, and others involved in residential construction.
OSHA now requires fall protection, which includes guardrails, safety nets, personal fall arrest systems, and other safety products to be used in residential construction project above 6 feet. If employers can demonstrate that there is not a feasible way to implement these measures, or that perhaps that they would create even more of a hazard, a site specific, written plan must be provided. This plan must specify alternate methods that will be used to eliminate or reduce the possibility of a fall.
The previous regulations stated that employers could use alternative measures such as safety monitoring systems and were not required to prove the infeasibility or greater hazard-risk of the conventional measures.
OSHA intends to increase its enforcement, stating that employers will no longer be allowed to bypass conventional fall protection.
Go Back to Safety News
---