Work Harder in the Heat with Heat Stress Supplies and Outdoor Equipment from NSI!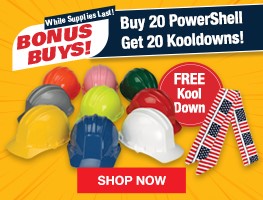 Summer months bring on the highest temperatures of the year and raise the risk of heat illness. Encourage your outdoor workers to use sunscreen, wear safety glasses with dark lenses, use hard hat cooling shades, and take frequent breaks. Shade tents and umbrellas are also handy to keep workers cooler.
When the job list gets longer, you need a supplier with the products you want at prices that let you get more done, all season long. NSI is your source for the best in safety, industrial, and MRO.