OSHA declares scissor lifts can be deadly if not used properly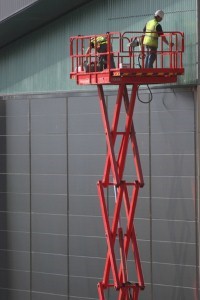 The Occupational Safety and Health Administration (OSHA) issued a warning on July 6, 2011, that scissor lifts can be extremely dangerous when used to film events.
Scissor lifts, which are portable and powered by hydraulics, are often used by colleges and high schools to film sporting events and band performances. In one instance, a student worker was killed while filming a Notre Dame football practice. The worker raised the lift more than 39 feet on a day when winds were exceeding 50 mph, and the lift was blown over.
OSHA declared that employers can minimize scissor lift hazards by implementing safe practices in the workplace, such as safety equipment inspections, positioning and stabilizing the lift, and knowing when weather conditions create a danger that would not permit use of the lift.
To further decrease the risk of injury or death when operating scissor lifts, workers should be properly trained and made aware of the possible risks involved.
OSHA provides health and safety tips on using scissor lifts and presents guidelines for employers who work on scaffolding and other high places, and encourages employers to take part in free on-site consultations.
Go Back to Safety News
---