Michigan Construction company signs partnership to protect workers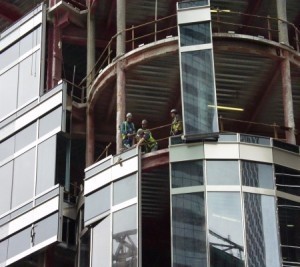 A partnership between Pioneer Construction, the Michigan Department of Licensing and Regulatory Affairs (LARA), and the Michigan Occupational Safety and Health Administration (MIOSHA) was formally signed. This partnership will protect construction workers on a project at Grand Valley State University, according to a recent statement released by LARA.
The goal of the partnership is to enhance health protection and proper use of safety equipment, and to record zero injuries for workers on the project.
In order to attain this goal, LARA and OSHA worked with Pioneer to engineer techniques to assure safety at all times. These items include 100 percent fall protection over six feet, 100 percent eye protection through safety glasses, and substance abuse testing.
"We're proud to recognize Pioneer Construction's commitment to send every construction worker home healthy and whole, every day," LARA Deputy Director Steve Arwood said in a statement.
MIOSHA has made 10 similar partnerships with contractors on other construction projects.
"Partnerships are a cooperative agreement that help not only MIOSHA but also contractors carry out the mission of protecting workers' safety and health," safety manager for MIOSHA Paul Wrzesinski said.
Go Back to Safety News
---