Stay safe when loading on trucks, trailers, and docks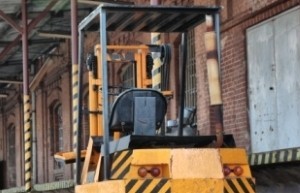 If your work includes loading and unloading pallets from a truck or trailer, there are a lot of safety issues to take into account. There's quite a bit of weight going back and forth, and it has to be carefully supported so that you and your equipment don't fall. It's also possible for pallets to fall and break open. Here are some important things to keep in mind.
The possibility of a truck or trailer rolling away is one of the most common problems with loading and unloading at docks. First, set the brakes. Then, before moving any items, workers need to make sure that they've chocked the wheels of the trailer to keep it from moving away from the dock. Forklift drivers who move freight on and off the trailer - not the truck driver - are responsible for making sure that the trailer's wheels are chocked.
Dockboards are supports that are placed between the trailer bed and the dock. Make sure you check their rating and put them down securely. Dockboards have numbers that tell workers how much weight they can support, so no items should ever be transported on them if they're heavier than the dockboard rating.
Dockplates work the same way as dockboards, but are used for non-motorized loading and unloading. Their ratings also need to be checked. You should also examine both of these items for weaknesses or damage that might make them break when you move materials over them. Whenever you go over a dockplate or drive over a dockboard, do it carefully and slowly, since this is the most dangerous part of dock work.
Dock locks hook onto a trailer's impact guard to keep a trailer secured against a dock. Keeping a trailer locked to a dock ensures safety against trailer creep and early truck departures.
Transporting pallets at a dock involves risk, so forklift operators need to wear proper safety products at all times. This includes work gloves, hard hats, steel-toed boots, and safety glasses. No loading or unloading should be done without these items.
Go Back to Safety News
---