Northern Safety Recognized by Cabot Corporation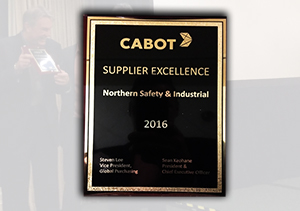 January 5, 2017, Church Hill, TN – Northern Safety and Industrial has been awarded Cabot Corporation's prestigious Supplier Excellence in Innovation Award for 2016.
This award recognizes Northern Safety's ability to provide innovative solutions to their unique safety and industrial supply challenges. NSI Inventory Solutions was one of the main ways Northern was able to go above and beyond expectations while servicing Cabot's needs.
Of Cabot Corporation's over 10,000 suppliers, Northern Safety was the only company to receive the esteemed Innovation award.
Neil Sexton, Chief Operating Officer of Northern Safety is proud of what this award represents for Northern Safety. "It's hard to express how thrilled all of us at Northern Safety & Industrial are to be recognized for Supplier Innovation Excellence by Cabot Corporation. When one of the finest companies (and finest customers!) in the world rewards you in this way, it's truly humbling and appreciated. Our effort for continuous improvement in collaboration with Cabot will continue, as they have now for over 13 years, as we strive to do even better in our ongoing and growing relationship. Thank you to everyone at Cabot and on our team here at Northern for the outstanding effort required to win this highly cherished award."
Go Back to Safety News
---