School's Open!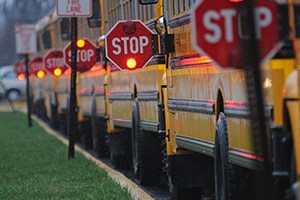 Is summer vacation over already? Yes. Kids are putting their pencils and books into their backpacks and they're off to school. Let's get them there safe and sound.

Student School Bus Safety
With their famous yellow color, flashing red lights, cross-view mirrors, and stop sign arms, school buses are designed to be safer than passenger vehicles in preventing crashes and injuries. In fact, most injuries involving school buses happen when kids are getting on and off the bus rather than riding them.

At this busy time of year, the National Highway Traffic Safety Administration (NHTSA) reminds us that there are still plenty ways to keep children safe as they go to and from school.
Students should get to the bus stop at least five minutes before the bus is scheduled to arrive. Remind children that the bus stop is not a place to run or play.
When the bus arrives, children should wait until the bus comes to a complete stop, the door opens, and the driver says it's okay before approaching the bus door. They should use the handrails to avoid falling.
If a student must cross the street in front of the bus, it's best to walk on a sidewalk or along the side of the street to a place at least five giant steps in front of the bus before crossing. Children should also make eye contact with the bus driver before crossing to make sure he/she has been seen.
Children should never walk behind a bus.
If a child drops something near a school bus, the safest thing to do is to tell the bus driver right away. The child should not try to pick up the item, because the driver might not be able to see him/her.

Guidelines for Motorists
When the school year begins, drivers will see an increase in traffic and pedestrians. Stay alert and be even more watchful as you head out on the roads.
When backing out of driveway or leaving a garage, watch out for children walking or bicycling to school.
Follow school zone speed limits.
Be alert for children in school zones.
Don't block crosswalks.
Slow down, and watch for children walking in the street, especially if there are no sidewalks.
Learn and obey the school bus laws in your state, as well as the flashing signal light system that school bus drivers use to alert motorists of pending actions.
Watch for children congregating near bus stops.
Be alert to youngsters arriving late for the bus, as they may dart into the street without looking for traffic.
Go Back to Safety News
---