Tips to Steer Clear of Colds & Flu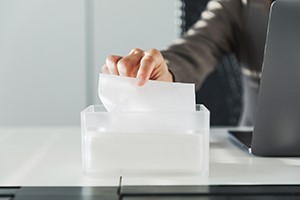 Cold and flu symptoms can make you miserable, especially with the holidays coming up. Do your best to protect yourself this year. Making wise choices now and following some good old-fashioned advice can help you be free of illness all season long.

It's good to remember how germs and bacteria spread, and how to avoid becoming their victim.

The most common way for infectious diseases to spread is through person-to-person contact. Germs can be easily spread when the person with the bacterium or virus touches, coughs on, or kisses someone. Even if the person who passes the germs has no symptoms, he or she may a carrier.

Disease-causing germs can also be spread through indirect contact. Organisms can live on tabletops, desktops, doorknobs, or faucet handles. If you touch an object that someone ill has handled, you can pick up the germs he or she left behind. If you touch your eyes, mouth, or nose before washing your hands, you may become infected.
Classic flu-like symptoms include:
Fever above 100.4 F
Cough
Sore throat
Headaches
Chills
Muscle aches
Diarrhea
Vomiting
Mild symptoms may respond to home remedies and over-the-counter medication. It's best to seek medical attention if are having trouble breathing, have been coughing for more than a week, have severe headache with fever or seizures with fever, experience a rash or swelling, or have unexplained fever. These may indicate a more serious illness.
Prevention
As you go about your day, you accumulate germs on your hands. Frequent hand washing with soap and water is the most effective way to clean your hands. A waterless hand sanitizer, wipes, or towelettes are also effective if you don't have access to soap and water
Cover your nose and mouth with a tissue when you cough or sneeze and throw the tissue in the trash
Avoid touching your eyes, nose, or mouth. Germs spread this way!
Try to avoid close contact with sick people
If you are sick with flu-like illness, stay home for at least 24 hours after your fever is gone except to get medical care or for other necessities. (Your fever should be gone without the use of fever reducing medicine.) Keep away from others as much as possible to keep from making them sick
Go Back to Safety News
---