National Influenza Vaccination Week is December 2-8, 2018.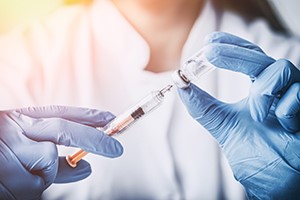 The Centers for Disease Control and Prevention (CDC) is reminding people to protect themselves against the flu and that it's not too late to be vaccinated.
The CDC recommends that flu vaccination efforts continue throughout the flu season. While the CDC recommends getting vaccinated by the end of October, so that people are more likely to be protected against the flu when activity picks up in your community, vaccination into December and beyond can be beneficial during most flu seasons, including this one.
"Flu season most often peaks between December and March, but activity can occur as late as May," says Dr. Dan Jernigan, Director of the Influenza Division at CDC. "We are encouraging people who have not yet been vaccinated this season to get vaccinated now." It takes about two weeks after vaccination for antibodies that protect against influenza virus infection to develop in the body, so it's best to get vaccinated early.
For millions of people every season, the flu means a fever, cough, sore throat, runny or stuffy nose, muscle aches, fatigue, and miserable days spent in bed. Millions of people get sick, hundreds of thousands are hospitalized, and thousands to tens of thousands of people die from flu each year.
There is a vaccine that can help reduce the risk of flu and its potentially serious complications. While the vaccine varies in how well it works, there are many studies that show that flu vaccination reduces flu illnesses, doctor visits, and missed work and school due to flu, as well as prevents flu-related hospitalizations. A 2017 study showed that flu vaccination reduced deaths, intensive care unit (ICU) admissions, ICU length of stay, and overall duration of hospitalization among hospitalized flu patients. The CDC estimates that during the 2016-2017 flu season, the flu vaccine prevented approximately 5.3 million flu illnesses, 2.6 million flu-related medical visits and 85,000 flu-associated hospitalizations. However, fewer than half of the people in the United States reported getting a flu vaccine during that season, leaving millions of people unprotected. The CDC estimates that if just 5% more of the population had gotten vaccinated during the 2016-2017 flu season, an additional 504,000 illnesses, 233,000 doctor's visits, and 6,000 hospitalizations would have been prevented.
"Getting the flu vaccine is simple, and it's the most important thing you can do to protect yourself and your family from the flu," says Dr. Jernigan.
For more information about the seriousness of the
flu and the benefits of flu vaccination
, talk to your doctor or other health care professional, or call CDC at 1-800-CDC-INFO.
Go Back to Safety News
---