OSHA Announces Sixth Annual National Fall Stand-Down Week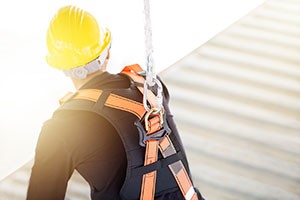 National Fall Safety Stand-Down Week will take place May 6-10. This week is designed to raise fall hazard awareness and stop fall injuries and fatalities.
A Safety Stand-Down is a voluntary event for employers to talk directly to employees about safety. Workplaces can hold a stand-down by taking a break to focus on fall hazards and reinforce fall prevention. If your company does not expose workers to fall hazards, then this time can be used to have a conversation about other hazards that they are exposed to while on the job and the protective measures they can take to keep safe in the workplace. This time can also be used for employees to express their concerns about falls and other job hazards they see.
"The commitment from partners, employers, and workers to invest in fall prevention is something to celebrate, and adds real value for those who are at the highest risk for falls," said NIOSH Director John Howard, M.D. "Stand-down operations have gained traction, and it is important to use this momentum to further promote a positive work culture and emphasize worker safety at all times."
You can find a day by day guide on how to take part in the stand-down week on the Center for Construction Research and Training's website.
Go Back to Safety News
---