Evaluating Indoor Air Quality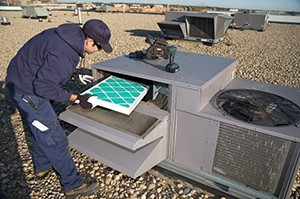 Office ergonomics and indoor air quality are the most common complaints of employees according to Louise Vallee, CSP, CIH, CPE, of Crum and Forester Insurance who spoke at the American Society of Safety Professionals (ASSP) Safety 2019 conference. Complaints from employees regarding air quality typically include headache, fatigue, mucous irritation, dryness, allergy symptoms, and nausea. When indoor air quality isn't properly handled, it can lead to dangerous illnesses such as asthma, bacterial infections, dermatitis or rash, and carbon monoxide poisoning.
Vallee offered up a basic outline for an indoor air quality evaluation during the conference:
IAQ Tools - Those who are conducting evaluations on indoor air quality must first calibrate their equipment, take measurements inside and out, and compare. "Chain of Custody" documentation should also be taken very seriously. These documents are often used in litigation, as attorneys are able to view them.
Visit the Roof - In order to get a better look at HVAC systems, you should always go up to the roof if it's safe to do so. Check out the HVAC system to see what's going on, as it could make the difference. Several office space HVAC systems lack filters entirely. If you cannot safely make it to the roof, ask for system documentation from your HVAC contractor.
Communicate - Communication with employees and understanding complaints and possible illnesses is key to understanding indoor air quality. Talk to all employees and look for commonalities. Are complainants sitting in the same area? Do they share similar symptoms? The answers to these questions could help solve air quality issues.
Vallee also offered this bit of information regarding complaints that employers receive from employees, "Everyone only sees their part of the issue. You must get everyone together, the employees, supervisors and managers, so you can see every problem, note commonalities, and move forward with a solution."
Go Back to Safety News
---