National Influenza Vaccination Week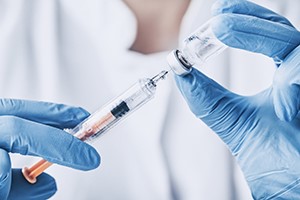 The Centers for Disease Contol and Prevention (CDC) recognize December 1-7, 2019 as National Influenza Vaccination Week (NIVW). The CDC established NIVW in 2005 to shed light on the importance of getting the flu vaccination even after the holiday season has begun.
Contrary to popular belief, the flu is more than just a bad cold. If not properly taken care of, the flu can lead to more serious complications, including hospitalization. Anyone can develop a serious complication, but certain groups have a larger risk. According to the CDC, this group includes young children, pregnant women, people with certain chronic health conditions like asthma, diabetes, heart disease or lung disease, and people 65 years and older.
Data shows that people typically won't get a vaccination for the flu after the end of November. The CDC uses NIVW to remind people that even though the holiday season has arrived, it's not too late to get a flu vaccine. Even if you've gotten sick with the flu, getting the vaccine may still be beneficial as there are different variations of the flu. Most vaccines protect against four different strains of the flu.
The CDC lists these benefits of flu vaccination:
During 2016-2017, flu vaccination prevented an estimated 85,000 flu-related hospitalizations
Flu vaccine has been shown to reduce the risk of having to go to the doctor with flu by 40-60%
Vaccination has been associated with lower rates of some cardiac events among people with heart disease, especially among those who've had a cardiac event in the past year
Vaccination reduces the risk of flu-associated acute respiratory infection in pregnant women by up to one-half
Getting vaccinated while pregnant may also protect a newborn baby from the flu
Among adults hospitalized with flu, vaccinated patients were 59% less likely to be admitted to the ICU than those who hadn't been vaccinated
Getting vaccinated yourself may also protect people around you, including those who are more vulnerable to serious flu illness, like babies, young children, older adults, and people with certain chronic health conditions
Go Back to Safety News
---