1-800-571-4646
For sales & customer support
7:30 am - 7:00 pm ET, Mon-Fri
Northern Safety Co., Inc.
PO Box 4250, Utica, NY 13504-4250
Phone: 1-800-571-4646
Fax: 1-800-635-1591
Northern Safety & Industrial
10 Ways to Secure Your Home While You're Away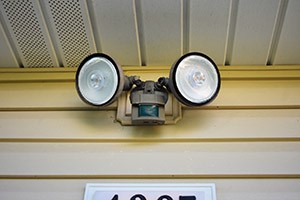 Heading out for a vacation? Lucky you! Whether you're headed to warmer climates or a skiing holiday, don't forget about the safety of what you're leaving behind… like your house and valuables.

Remember, burglars know the signs of an empty house and how to get in and out quickly. Follow these tips to keep everything safe and sound while you're away:
Keep your mailbox clear: either stop your mail with the US Postal Service or have a trusted friend or neighbor collect it.
Create the illusion that someone's home: use motion and/or programmable lights/switches. If possible, program lights or the TV to come on at different times each day.
Lock the doors and windows (this might be an obvious one): Don't neglect upper level windows, and double-check that it's all locked up before you go!
Watch out for porch pirates: a pile of packages near your front door not only signals that no one is home, but also lures porch pirates. Resist placing orders in the days before you depart.
Maintenance: to ensure your house doesn't look vacant, keep up with tasks like driveway shoveling and lawn maintenance. Ask a neighbor or hire temporary service.
Leave a vehicle in the driveway: leave your locked car where people can see it.
Stay off social media until after you return: when you share travel plans online, you're advertising that your home will be empty.
Put valuables out of sight: jewelry boxes, expensive electronics, laptops, firearms, and cash should be locked up in a hidden home safe. Also, before you leave, make sure you haven't left out documents that could make you vulnerable for identity theft, like social security cards, credit cards, and bank statements. Prescription drugs should also be hidden.
Security systems: DIY and professionally-installed options provide a higher level of protection. Features include sensors at doors and windows, and outdoor alarms that alert neighbors to an intrusion.
Lock your garage door and disconnect the automatic opener: the garage can be a vulnerable entry spot to your home. It also holds expensive equipment like power tools and golf clubs, that are attractive to burglars.
Go Back to Safety News
---