1-800-571-4646
For sales & customer support
7:30 am - 7:00 pm ET, Mon-Fri
Northern Safety Co., Inc.
PO Box 4250, Utica, NY 13504-4250
Phone: 1-800-571-4646
Fax: 1-800-635-1591
Northern Safety & Industrial
Staying Safe In Tree Removal Sites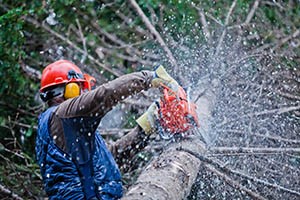 Loggers and other tree care specialists perform many duties. They clear sites for new construction projects, fell dying and diseased trees to avoid danger to residential areas, and remove trees that have received storm damage.
Unfortunately, more workers are killed while felling trees than during any other logging activity. Crews assigned to the arduous task of felling trees must use careful skill and avoid many risks, especially power lines. The Occupational Safety and Health Administration (OSHA) has guidelines to keep everyone safe.
Complete a thorough risk assessment before beginning work. Eliminate or minimize any hazards in the tree's area.
Never trim in harsh, dangerous weather.
Anyone operating chain saws or other equipment must be fully trained.
Ensure all tools and machinery are in proper working order.
Use personal protective equipment as recommended in the equipment manufacturer's instructions, including gloves, safety glasses, hard hats, hearing protection, and visors.
Determine the tree's felling direction. Be sure to address forward lean, back lean, and/or side lean issues.
Assess the proper amount of hinge wood to safely guide the tree's fell. Provide a retreat path to a safe location.
Always inspect tree limbs for stability and strength before climbing. Workers at height must use appropriate fall protection and should not climb with tools in their hands.
If broken trees are under pressure, determine the direction of the pressure and make small cuts to release it.
Practice extreme caution should a tree get lodged against another tree during the felling process.
Be alert. Avoid objects thrown back by the tree as it falls. Never turn your back on a falling tree.
When working around power lines:
Contact the utility company to discuss de-energizing and grounding/shielding of power lines. Always use caution when work is in progress, and assume that all power lines are live.
All removal work within 10' of a power line must be done by fully trained and experienced line-clearance tree trimmers. Furthermore, a second tree trimmer is required within normal communication range.
Line-clearance tree workers should always be aware of and maintain safe approach distances when working around energized power lines.
Use extreme caution when moving ladders and other equipment when working near downed power lines and trees.
Go Back to Safety News
---