1-800-571-4646
For sales & customer support
7:30 am - 7:00 pm ET, Mon-Fri
Northern Safety Co., Inc.
PO Box 4250, Utica, NY 13504-4250
Phone: 1-800-571-4646
Fax: 1-800-635-1591
Northern Safety & Industrial
Ten Tips for Safe Camping Meals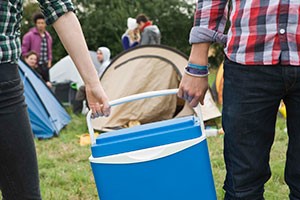 Camping is a tradition for millions of US families. "Unplugging" in the great outdoors can be a relaxing and rewarding experience that creates many fond memories. Before you hit the road with your hot dogs and hamburgers, plan ahead to make sure all your meals are delicious AND safe.
Add ice to a cold cooler! Put your well-insulated cooler in the fridge or freezer the night before or a few hours before loading it.
Large blocks of ice last longer than ice cubes.
Keep foods in waterproof bags and tight-sealed containers inside the cooler.
Cold foods should be kept at 40º or colder. Utilize an appliance thermometer to be sure food is safe to eat.
Pack meat into your cooler while still frozen. It'll stay cold longer.
Reserve one cooler for beverages, which will be opened more frequently.
Plan your meals ahead of time and pack the cooler in reverse order. What you want to eat first should be on top.
When preparing, cooking, and storing meals, separate raw from cooked foods.
Always cook foods to the proper "doneness" temperatures.
When the air temperature is above 90º, put leftover perishable food back into the cooler one hour after eating. Otherwise, use the two-hour rule.
Don't forget the marshmallows!
Go Back to Safety News
---