A Guide to Gloves
---
Proper gloves are a critical concern in today's demanding and ever-changing work environment. Since potential injuries can be severe and debilitating, selecting the appropriate gloves can save workers from lost workdays. The right gloves ensure safety, provide comfort, and help increase productivity.
Because of the wide variety of hand protection products available, gloves can be matched to particular applications and you'll want to consider the following:
Physical Conditions: Hazards workers are exposed to, including punctures, cuts, abrasion, voltage, and temperature extremes
Chemical Resistance: Ability of the gloves to withstand chemical penetration. Permeation guides help determine the level of protection required. For information on the chemical permeability of different glove materials, please call our knowledgeable Technical Support Department at 1-800-571-4646, 8 am - 5 pm ET, Monday - Friday, or email us
Product Protection: The need to protect products from outside contamination through contact with worker's hands. Contamination could also occur in the work environment if gloves contain powder or some other ingredient that shouldn't be present
Glove Design, Construction, and Fit: Strength, thickness, powders, linings, cuffs, sensitivity, dexterity, finish, and color. Materials used in glove construction and a proper fit ensure comfort and reduce fatigue
Allergies: Possibility of workers having allergic reactions to glove contents, including latex
---
Glove Types and Materials
Based on worker activities, workplace conditions, and materials being handled, a wide assortment of gloves are available.
---
Glove Features
Cuff Styles

Rolled Cuffs
Provides strength in donning and helps prevent tearing.

Safety Cuffs
Help protect the wrist area and are 2 1/2" in length.

Wrap Cuffs
Adjustable cuffs feature hook and loop or Velcro® closures at the wrist for a secure, custom fit.

Gauntlet Cuffs
Ensure added forearm protection and are 4 1/2" or more in length.

Knitwrist Cuffs
Designed to hold the glove in place and prevent debris from entering at the wrist.

Band Top Cuffs
Allows wear over a shirt cuff for added protection.

Pull-On Cuffs
Provides easy-on and easy-off. Usually have an elastic gathering on the top or bottom of the wrist.
Thumb Styles

Wing Thumbs
Reduce fatigue and stress on seams.

Keystone Thumbs
Ensure comfort and flexibility while providing added wear resistance.

Straight Thumbs
Constructed to provide a closed thumb gripping position for comfort and durability.

Ambidextrous Thumbs
Reversible style allows wear on either hand for longer lasting use.
Glove Linings

Jersey
Soft, interlock knit lining helps keep hands warm in cold environments.

Fleece
Adds lightweight warmth and is soft and comfortable against the skin.

Foam
Insulates to protect hands in cold temperatures and when handling cold materials.

Thermal
Includes acrylic terrycloth, cotton, and Thermonol materials to protect against the cold.

Flocked
Cotton fiber applied to the inside of unsupported gloves. Absorbs perspiration and is more comfortable against the skin.

Kevlar
Cut, abrasion, and heat resistant material. Used as a lining in leather and can be coated for a better grip.

Knitted
Provides support for dipped gloves. Adds durability and insulation.

Wool
Used as a lining to dissipate heat in aluminized and glass cloth gloves and mitts.
---
Measuring for a Proper Fit
With a proper fit, gloves can be easy to work with, comfortable, reduce hand fatigue, and provide the safety your workers need.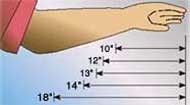 Length
For accurate glove length, measure from the tip of the middle finger to where the cuff edge should be on the wrist or arm, then select the proper cuff and length for your needs.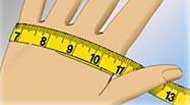 Size
To measure your hand size, wrap a tape measure around the palm at its widest point. This measurement, in inches, is equivalent to the glove size. i.e. 9" measurement = size 9. Letter sizes to measurements: S (7-8), M (8-9), L (9-10), XL (10-11)
---
More Information
OSHA 29 CFR 1910.132 provides general requirements for personal protective equipment and 29 CFR 1910.138 provides requirements for gloves.
Additional personal protective information is available through OSHA's Safety and Health Topics.
A wide variety of standards apply to gloves. The following are examples of some of the standards, regulations, or information that apply to gloves. Please note, additional standards and regulations could apply and would depend on your specific applications and uses of gloves.
---
Questions about gloves?
Call our knowledgeable Technical Support Department at 1-800-571-4646, 8 am - 5 pm ET, Monday - Friday, or email us.