Fall Protection & Confined Space
A Guide to Fall Protection and Confined Space
---
Falls in the workplace and at worksites result in the high cost of painful injuries, lost time, and lost money. Your workers must be protected. OSHA has established a variety of guidelines designed to involve both employers and workers in an ongoing effort to ensure workplace safety.
Make it easier to keep workers safe and productive with the right fall protection and confined space equipment. You can count on Northern Safety for the best fall protection at the best prices.
---
Building a Fall Protection Program:
Identify Hazards:
Whenever a worker is at a height of more than 4', a hazard exists. If the hazard cannot be removed, workers should be provided with and trained to use personal protective equipment.
Understand OSHA and ANSI Regulations:
Regulations will vary, based on the workplace, the specific job performed, etc. It is important to know which regulations apply to your workers, and to comply at all times.
OSHA 29 CFR 1926.500 provides information on scope, application, and definitions for construction fall protection and OSHA 29 CFR 1926.501 provides regulations for the duty to have and provide fall protection in construction where the working height is 6' or more above a lower level.
OSHA 29 CFR 1910.269, 1910.268, and 1910.23 regulations for general industry provide requirements where the height is 4' above floor level, or a drop is more than 4'.
Write Your Fall Protection Plan:
OSHA 29 CFR 1926.502(k) requires a written fall protection plan. Your plan should consist of proper work, supervision, and rescue procedures, appropriate products to be utilized, and training responsibilities. Non-mandatory guidelines to help you comply are provided in OSHA's Sample Fall Protection Plan.
Select Your Fall Protection Products:
Review the types and styles of fall protection available and determine which products are right for your workers.
Northern Safety provides a wide variety of fall protection from NSI®, Miller®, DBI SALA, 3M, Guardian, and more. You'll also find suspension trauma safety equipment designed to help reduce injury, plus tools and kits to speed rescue in the event of a fall. OSHA's safety and health information bulletin provides more information on suspension trauma and orthostatic intolerance.
Train Your Workforce in the Following:
Identifying fall hazards
Selecting appropriate equipment
Identifying suitable anchor points
Using fall protection equipment and proper tie-off procedures
Inspecting and maintaining personal fall protection equipment
Implementing rescue procedures in the event of a fall
Training workers that might be exposed to fall hazards is required by OSHA 29 CFR 1926.503 and those requirements include fall protection training on use, responsibilities, procedures, and more. A variety of training and information guides for fall protection, confined space, and construction are available from Northern Safety.
---
Product Categories for Fall Protection
Active Fall Arrest Systems:
Active fall protection requires participation from your workers, including wearing harnesses and connecting to anchor points. Components include:
Full body harness with back D-ring
Shock absorbing lanyard, self-retracting lifeline, or fall limiter
D-bolt anchor, anchorage strap, beam anchor, wire hook, or scaffold choker
A full body harness is designed to distribute the force of the fall throughout the body to reduce internal injuries. Shock-absorbing lanyards and self-retracting lifelines or fall limiters reduce the impact on the worker when the fall is arrested. Fall harnesses with attached lanyard combos and kits are also convenient options. Anchors attach to a point supports the worker in the event of a fall and must possess a minimum strength of 5,000 lbs.
Some harnesses are also equipped with side and/or chest positioning D-rings that allow workers to keep their hands free to perform tasks. If a harness isn't equipped with the side or chest D-rings, restraint and work positioning equipment is available, but must be used with a full body harness, shock-absorbing connection device, and anchor.
Passive Systems:
Passive fall protection systems can include the following:
Guardrails and barricades
Horizontal and vertical safety nets
Warning lines
Unlike active fall protection, guardrails, barricades, warning lines, and safety nets don't need active participation from your workers, including properly wearing and inspecting their personal system, and using lanyards and anchors correctly.
OSHA 29 CFR 1926.105, sets forth regulations for safety nets in construction, and OSHA 29 CFR 1926.502 outlines regulations for fall protection systems including guardrails, lifelines, warning lines, and much more.
Confined Space Systems:
Confined space is defined by OSHA as follows:
An area large enough and so configured that an employee can bodily enter and perform assigned work
The space has limited or restricted means for entry or exit. Tanks, vessels, silos, storage bins, hoppers, vaults, and pits are spaces that may have limited means of entry
The area is not designed for continuous worker occupancy
Confined space systems are ideal for use in manholes, tanks, silos, and more, confined space systems would consist of:
Full body harness
Rescue device
Tripod or davit arm with base as an anchor point
Convenient systems with a harness, rescue device, and a tripod or davit arm, protect against falling, aid in rescue, and provide a safe way to raise, lower, or support workers and materials in confined spaces. Confined space accessories include communication systems, manhole guard rails, umbrellas, tents, and signs.
Additonal hazards may also be present in confined spaces and permits may be required as defined by OSHA 29 CFR 1910.146. Gases or fumes might build up, or there could be a lack of adequate ventilation. To check for the presence of gas, workers should use multi-gas or single gas monitors or detector tubes and a pump. When spaces require ventilation, electric or gasoline powered blowers with ducting will do the job. Special saddle vents are also available for manholes and tanks.
---
Calculating Fall Distance
LL = Lanyard length
DD = Energy absorber deceleration distance (4' total)
HH = Height of the harness dorsal D-Ring from the worker's feet
C = Clearance to obstruction during fall arrest (1' required plus 1' for D-ring movement and system materials stretch = 2' Total)
RD = Required distance below anchor point to nearest obstruction
RD = LL + DD + HH + C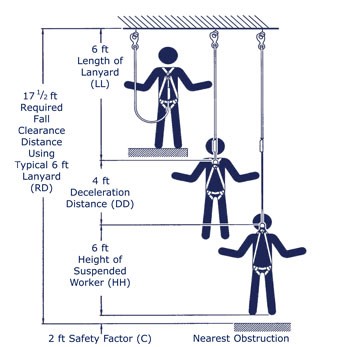 ---
More Information:
The OSHA Outreach program supplies an overview on Fall Protection-Construction Safety and Health.
OSHA Safety and Health Topics Guides provide additional fall protection information and confined spaces information. These guides include standards, hot topics, eTools, hazards with possible solutions, and more.
OSHA's Quick Start Guide provides a wide variety of information on requirements related to leading hazards at construction sites.
---
Questions about Fall Protection?
Call our knowledgeable Technical Support Department at 1-800-571-4646, 8 am - 5 pm ET, Monday - Friday, or email us.