A Guide to Floor Matting
---
Reduce injuries and liability with safe walking and standing surfaces. Quality industrial floor matting helps to prevent slips and falls, and provides ergonomic support for workers that are required to stand for long periods of time. Increase productivity with durable mats that will give workers sure footing and more comfort while standing.
Conductive or non-conductive floor matting is also available to protect workers and delicate equipment from shocks, while welders appreciate cushioned welding mats that also protect floors.
Choose from a wide variety of commercial floor matting that ensures safety with attractive options for entryways. This matting also protects floors and carpets from dirt and moisture.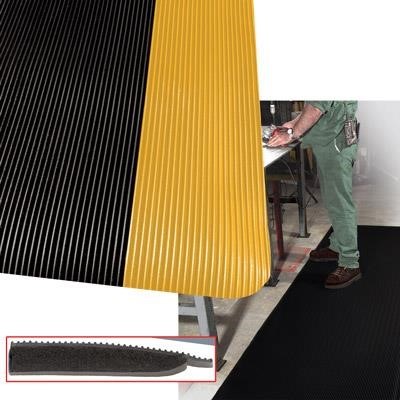 Anti-Fatigue Matting
Standing for extended periods of time places stress on the back, feet, and legs. Anti-fatigue matting is available in mats for smaller areas and in custom lengths for larger areas. Anti-fatigue matting helps to relieve stress and improve productivity.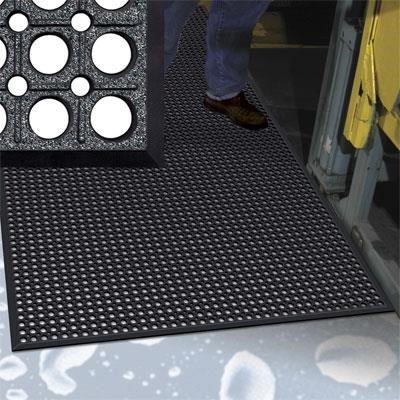 Anti-Slip Matting
Reducing slips and falls is critical in today's workplace. Anti-slip properties are often combined with anti-fatigue features, and this combination ensures ergonomic protection while helping to prevent dangerous falls. In areas where oils, grease, and other fluids accumulate, drainage matting keeps workers' feet above the slippery floor and often provides anti-fatigue properties. Drainage matting can include grit surfaces, modular systems that lock together, and chemical resistant construction.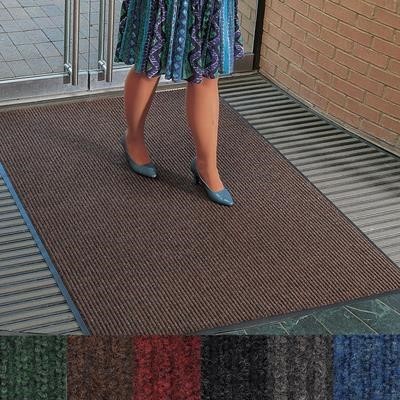 Entrance Matting
Entrance matting offers a variety of textural designs to trap dirt and moisture while providing protection for both users and your floors. Assorted colors allow easy matching to existing lobbies and entrances.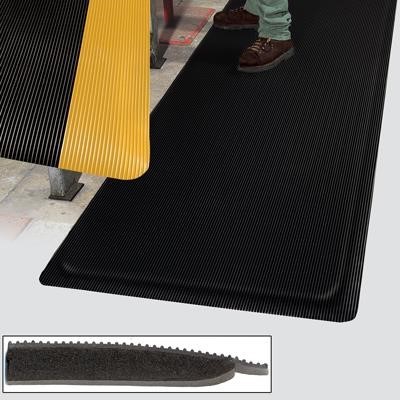 Logo & Safety Message Matting
Promote your business or get your message across with custom imprinted mats that can showcase your logo or special message about quality, teamwork, and more. It's easy to remind workers with safety and informational messages that are on matting they walk over or stand on everyday. A variety of messages are available, from required safety equipment to recycling trash.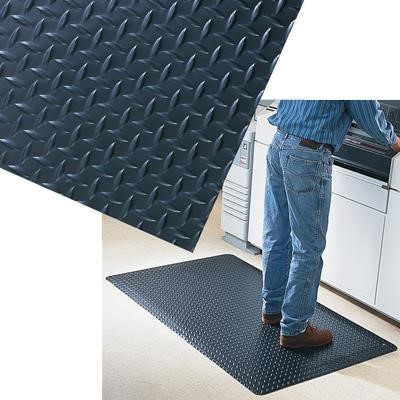 Conductive & Non-Conductive or Switchboard Matting
Conductive matting protects sensitive equipment from a static discharge from a worker. When used with an anti-static heal grounder or wrist strap and grounding cord, conductive matting eliminates static discharge by draining it from workers to prevent a shock to computers, electrical equipment, or labs and plants with ignition hazards.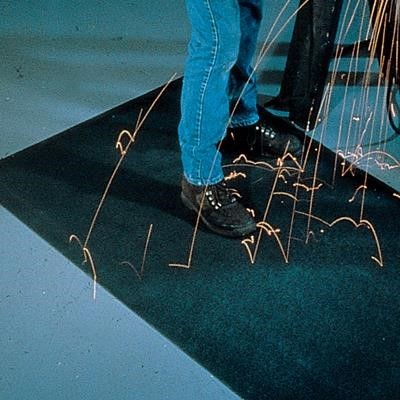 Welding Mats
Matting for welding is engineered to repel sparks and provide anti-fatigue comfort for workers standing during their shifts. Matting surfaces are slip resistant and edges are beveled for added safety.
OSHA sets out general requirements for walking-working surfaces in 29 CFR 1910.22.
OSHA Safety and Health Topics provides additional information on ergonomics and how to recognize and control related risks.
*Use for applications free of chemicals and oils unless otherwise noted.
---
Questions about Floor Matting?
Call our knowledgeable Technical Support Department at 1-800-571-4646, 8 am - 5 pm ET, Monday - Friday, or email us.