ActivGARD® DT Standard Disposable Coveralls keep workers clean and safe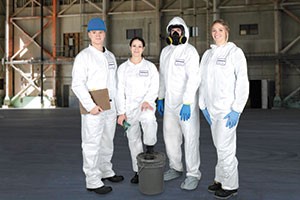 You may think wearing disposable coveralls is just a simple way to stay clean, but it's also an effective way to keep you safe. In some applications, such as removing asbestos or lead paint, the Occupational Health and Safety Administration (OSHA) requires workers to wear them to prevent illness and injury.
Many employees' jobs involve working with hazardous materials, including asbestos, lead, paint, mold, and silica. ActivGARD® DT Coveralls are one method to protect against them, even after the material has been abraded. Protective clothing made from Tyvek® provides inherent barrier protection against the passage and entrapment of harmful dry particulates.
These ActivGARD DT coveralls offer greater roominess in the torso. The elastic waistband provides a more comfortable fit and greater range of motion. An extended zipper also makes them very easy to put on and take off. Plus, you can count on these disposable coveralls to be an economical and convenient way to reduce contamination while keeping your workers comfortable.
Go Back to Safety News
---