Work safety tips for concrete manufacturers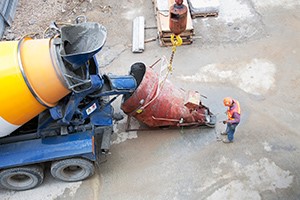 Concrete manufacturers face numerous occupational health and safety risks while on the job site. Potential hazards workers commonly encounter include:
• Eye, skin, and respiratory tract irritation due to cement dust exposure;
• Equipment with inadequate safety guards
• Machines with improper lockout tagout systems in place
• Awkward postures and overexertion
• Slips, trips, and falls
• Wet concrete that may cause chemical burns
When employees are aware of these dangers, they can take the necessary precautions to increase safety.
General safety
Workers who understand how to safely use on-the-job tools and equipment can help reduce accidents and injuries. Offer training to show workers the proper ways to complete their daily tasks.
Establish confined space procedures to assist workers with hoppers, mixer drums, tanks, and other confined spaces. Workers could also be exposed to blades or sloping sides in these confined spaces that could trap them. Atmospheric hazards such as oxygen deficiency can occur in confined spaces. Respiratory protection would be necessary under these conditions.
Supply workers with safety equipment to protect them against flying particles or falling objects. Personal protective equipment like hard hats, and eye protection are important for employees to wear during concrete manufacturing.
Vehicle safety
Perform maintenance checks before operating equipment to ensure that all trucks and vehicles are in good working condition.
Workers should also avoid overloading cranes, forklifts, and hoists to help reduce accident and injury dangers.
Machine safety
Lockout tagout procedures can be used to de-energize conveyors and other machinery before workers attempt to work on any equipment.
Secure chutes and hatches to help prevent injuries due to swinging parts. Guards should be in place at all times to protect workers against moving parts of machinery and tools.
Overhead dangers
A sudden release of materials can occur without notice, but workers can make sure that casting, form work, and stressing operations are adequately braced to help avoid this hazard. Protect against falling objects and materials during hoisting and stacking procedures by ensuring that secure rigging is in place. Workers should wear hard hats and avoid walking or working under overhead loads. The use of signs or barriers can help employees identify areas where these loads are present.
Reduce hazards on concrete manufacturing job sites by developing a workplace safety program to determine potential dangers, and include trainig for workers and how to minimize the risk of injuries, illnesses, and fatalities.
Go Back to Safety News
---