NIOSH Software Monitors the Health and Safety of Emergency Responders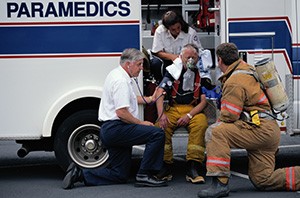 ERHMS Info Manager™ is a custom-built software product that emergency responder organizations can use to implement the Emergency Responder Health Monitoring and Surveillance (ERHMS™) framework.
ERHMS Info Manager™ allows users to:
Create responder profiles
Record response incidents and map incident locations
Assign responders to an incident roster
Design forms and surveys using custom and pre-built templates
Request information from responders by using forms and surveys
View and analyze forms and survey responses
"By being able to easily collect, analyze, and report health data, ERHMS Info Manager™ decreases the time required to identify exposure, signs, and symptoms of illness throughout an emergency response to ensure workers are not harmed and can respond effectively," said NIOSH ERHMS Coordinator Jull Shugart. "Data collected before, during, and after a response also helps to identify which responders would benefit from medical referral and possible enrollment in a long-term health surveillance program."
For more information on how to use this software, click here for a user guide and training videos.
Go Back to Safety News
---