1-800-571-4646
For sales & customer support
7:30 am - 7:00 pm ET, Mon-Fri
Northern Safety Co., Inc.
PO Box 4250, Utica, NY 13504-4250
Phone: 1-800-571-4646
Fax: 1-800-635-1591
Northern Safety & Industrial
Lenses and Coatings for Safety Eyewear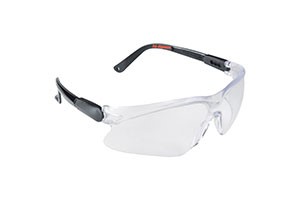 Choosing the right lens coating or lens color for your
safety goggles or glasses
is an important part of any safety program. What's the best lens coating for your job site? Here's a breakdown of different coatings and what they're best used for.
Anti-Fog Lens Coating:
When the lenses of your safety glasses fog, it temporarily interrupts your field of vision, leading to a potentially dangerous situation. In order to minimize fogging, manufacturers apply anti-fog coatings to improve the performance of your safety eyewear.
Scratch-Resistant Hardcoat:
Scratch-resistant hardcoat provides longer life for the lens and extends visual clarity. Even with a protective hardcoat, safety eyewear is still susceptible to damage from everyday wear and tear, and should be replaced if it becomes scratched or damaged.
Mirror Coating:
Mirror coatings are most often used to provide greater protection and comfort for your eyes when you're exposed to infrared radiation in hot environments. Mirrored lenses are frequently used in conjunction with a tinted lens. They're great for general-purpose sun and glare protection for outdoor work environments.
Indoor/Outdoor Lens:
Indoor/outdoor lenses are ideal for a variety of lighting conditions. They're perfect if you work indoors and outdoors throughout the day.
Gray Lens:
Gray lenses protect against sunlight in outdoor work environments.
Amber Lens:
Amber lenses are perfect for low-light work applications where you need enhanced contrast. It blocks the blue part of the light spectrum and maximizes contrast.
Vermilion Lens:
Vermilion (pink) lens sharpens visual acuity. This lens is ideal for inspection and detail work.
Blue Lens:
Safety glasses with blue lenses are great for use in work conditions with sodium vapor lighting and excessive glare.
Copper Blue Block:
Copper blue block lenses block glare similar to gray or mirrored lenses, but they provide a brighter field of vision than other shaded lenses.
Green Shade 3.0 and 5.0:
These lenses are especially for use around welding, brazing, or cutting applications. They're not for use when welding, however.
Polarized Lens:
Polarized lenses are used to eliminate glare. These are great for outdoor workers in bright, sunny conditions.
Go Back to Safety News
---