Hand Truck, Fork Lift, and Pallet Jack Safety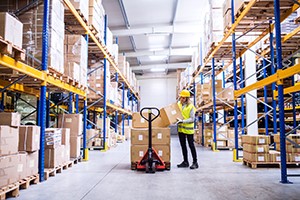 Material handling is a major component of warehouse operations. Proper handling and moving of materials are key to ensuring a safe workplace. Whether you use power equipment or your own body to move materials, you should adhere to these general safety rules:

Assess each load to decide the best way to move it
Check to see if there's space for the load at its destination
Use striping to delineate aisles and passageways, including doorways and loading dock areas
Keep aisles and passageways clear at all times
Always use safe lifting techniques
Use material handling equipment carefully and follow proper operating procedures
Never assume other equipment operators can see you or react in time to stop; assume that you're in his/her blind spot at all times
Look both ways and move slowly when emerging from aisles, doorways, or offices
Prohibit walking on pallets and using forklifts and pallet jacks for rides
Never drive a forklift or use other powered equipment unless you've been trained and authorized
When using a hand truck or pallet jack, be sure to load heavy objects on the bottom and secure bulky or awkward items
Push, rather than pull, manual material handling equipment whenever possible, and lean in the direction you're going
Be careful around conveyors, making sure not to get body parts or clothing caught in the machinery's moving parts
Make sure you and your co-workers know where the on/off and emergency stop buttons are on equipment they work on or around
Warehouse accidents like unsafe use of forklifts, improper stacking of products, failure to use proper personal protective equipment (PPE), inadequate fire safety provisions, and repetitive motion injuries can be avoided. In addition to following these guidelines, be sure to use signs and markers as a constant reminder to yourself and your workers to be safe. Keeping your property and workers safe in your warehouse will ensure a more productive workplace.
Go Back to Safety News
---