1-800-571-4646
For sales & customer support
7:30 am - 7:00 pm ET, Mon-Fri
Northern Safety Co., Inc.
PO Box 4250, Utica, NY 13504-4250
Phone: 1-800-571-4646
Fax: 1-800-635-1591
Northern Safety & Industrial
Choose the Right Cut Resistant Hand Protection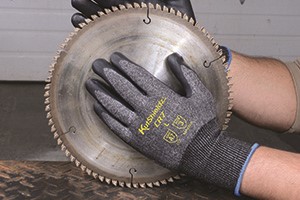 Our hands are important. They help us do so many day-to-day things. Their flexibility, strength, coordination, and sensitivity make them the perfect tools. However, because they do so much, they are one of the most vulnerable parts of the body.

Accidents due to cuts and lacerations cause painful injuries every year in a growing number of industries. Not only do they cause physical harm, they are costly. Proper hand protection is crucial to keeping your workforce on the job, instead of in the emergency room.

Given the high cost of accidents, loss in productivity, and pain and recovery from injuries, the cut-resistant gloves you choose as part of your hand protection plan provides great benefits for supervisors and workers, alike.

Knowing the Hazards

Before you can make the right choice, it's important to know the hazards you're protecting against and the level of protection you need.

A hazard identification assessment provides critical information for safety managers as they decide what kind of hand protection to choose. By taking an inventory of the work environment, lighting, tools, equipment, and materials that the worker uses and touches, you can learn a great deal.

Engaging in open communication with workers also increases awareness of the hazards. Observing where both of the worker's hands are placed when working with tools and machinery yields great information about cut hazards. Crew members can also share their experiences with supervisors about how they're using the tools and machinery, and supervisors should be open to listening to them.

Choosing Hand Protection

With this information in hand, safety managers can begin to implement a plan to prevent cuts and lacerations, including choosing the right gloves for the task.

What is cut resistance? It's the ability of a material to resist damage when challenged with a moving sharp-edged object. Cut resistance is measured using standard testing equipment, and is often used when comparing the safety of various styles of gloves. The ANSI/ISEA Hand Protection Selection Criteria provides cut-resistant guidelines, including a numeric scale, to help supervisors and users choose suitable gloves.

It's important to note that cut resistance in gloves isn't the only factor is preventing cuts. Tear strength, abrasion resistance, grip, and dexterity contribute to cut protection as well.
Innovations in Glove Manufacturing
Unfortunately, an uncomfortable, ill-fitting glove has a greater likelihood of being left on the work bench, unworn. But, the good news is that gloves have come a long way. Advancements in materials and design are giving supervisors more choices than ever to provide their employees with the protection, comfort, fit, and dexterity that leads to better compliance and reduced accidents. Today, cut-resistant gloves are made from Kevlar®, High Performance Polyethylene (HPPE), steel, fiberglass, and new engineered composite yarns. They are softer, lighter, and cooler to wear than the work gloves of yesteryear. This is good news, indeed.
Go Back to Safety News
---