School Bus Safety for Motorists and Students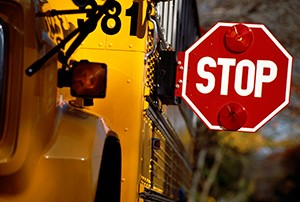 For many years, school buses have been protected under U.S. traffic law. These vehicles are trusted to transport children to and from school on a daily basis, and it's very important that we do all we can to ensure they have the safest trip possible.
Tips for Motorists
One of the most important things to remember when driving near a school bus is to stop. When a bus turns on their flashing yellow lights, that means they are about to stop, and you should be prepared to stop as well. Once the flashing red lights come on and the stop sign comes out, all cars in both directions must stop. This does not just go for basic two-way streets, but also on undivided highways. The National Highway Traffic Safety Administration (NHTSA) says:
All states require the traffic in both directions to stop on undivided highways when students are getting on or off a school bus. While wording varies from state to state, generally the law requires the following: The school bus driver activates flashing yellow lights to indicate the school bus is preparing to stop to load or unload students. At this point, motorists should slow down and prepare to stop. The school bus driver activates flashing red lights and extends the stop arm to indicate the school bus has stopped and students are getting on or off. At this point, motorists should stop.
State law varies in what is required on a divided highway and what constitutes a divided highway. However, in all cases on divided highways, traffic behind the bus must stop.
Even with these laws, drivers don't always stop for buses. The NHTSA reports that a study in Florida found almost one illegal pass per school bus every day. In Virginia, they found 3,394 drivers illegally passed a bus in one day. In Illinois, they estimated that there are over 1,900,000 instances of illegal passing each year.
Tips for Students
While drivers must be safe around buses, children must also practice safety while waiting for and getting on and off the bus, and while riding on the bus. The American School Bus Council (ASBC) offers these tips:
Children should stand 6' (or three giant steps) away from the curb while waiting for the bus
Cross in front of the bus – at least 10 feet (or five giant steps) – and make eye contact with the driver before crossing
Never walk behind the bus
If you drop something near the bus, do not pick it up; tell the bus driver instead
Wait until the bus has stopped and the door opens before approaching or standing up on the bus
Use the handrail when getting on and off the bus
Buckle up if seat belts are available
Stay in your seat and keep your head, arms, and papers inside the bus
Keep conversations quiet
Keep aisles clear of books and bags
For more resources on school bus safety from the NHTSA and ASBC, visit the website.
Go Back to Safety News
---