Prepare Your Business with a Disaster Response Plan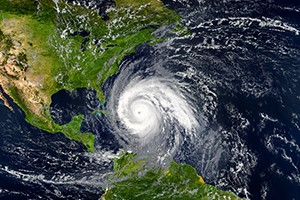 With hurricane season here, it's important that companies are prepared. These storms can cause heavy winds and flooding that impact both the businesses' infrastructure as well as workers trying to get to work. In the event of a devastating storm causing this sort of damage, companies should implement a disaster response plan with a business continuity component. According to a recent study, two out of three businesses do not have a disaster response plan.
When creating your disaster response plan, the first step is to assess risks. Risks will vary based on what type of business you have, where you are located, and what type of storm/disaster you may experience, i.e. hurricanes, blizzards, tornadoes, ice storms, or earthquakes. When conducting your risk assessment, you should be sure to take note of all stakeholders and how they may be impacted by a disaster to your business. After evaluating the risks, protocols and processes must be created to address your stakeholders' safety.
Response Plan
Occupational Health & Safety (OHS) offers these four elements to incorporate into your response plan:
If/then scenarios and actions based on your company's risk profile –"If an earthquake happens, then take these actions."
Provisions for company-specific circumstances – Such as assisting individuals with disabilities or protecting equipment in a storm.
Assign personnel – There should be personnel responsible for overseeing and carrying out each step in the plan.
Communication instructions – Include instructions on how to communicate with first responders, employees, customers, community members, and local media.
Business Continuity Plan
According to the Federal Emergency Management Agency (FEMA), 90% of smaller businesses fail after a disaster. To avoid this, you should include a business continuity component in your disaster relief plan with the following points:
Work location – In the event that a workplace isn't accessible after a disaster, employers should provide a location for workers, whether it's from home or at a secondary location.
Equipment to be used – If employees will use their own devices, ensure that they're equipped with proper virus protection. They also should adhere to cybersecurity measures that are typically used in your office to keep sensitive data safe.
Communication – Keep in touch with your employees, customers, suppliers, community members, and others. Discuss options with your IT team. If you keep your disaster recovery and business continuity plan on a cloud-based platform, you should also consider keeping hard copies on premises and at alternate locations in case of power failure
To learn more about how to prepare and respond to natural disasters, you can watch the Ready campaign's library of videos at ready.gov/videos.
Go Back to Safety News
---