Rake Leaves the Injury-Free Way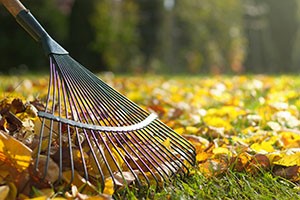 With autumn here, the leaves are falling and many people will be out raking. According to the U.S. National Institutes of Health (NIH), raking leaves or using other garden tools results in more than 76,000 injuries per year!
To avoid the aches and pains, here are some tips to practice:
Using the Correct Rake for the Job
Using the wrong rake can lead to ruining your lawn as well as an injury. Did you know if you use a steel rake, it can possibly tear out your grass? Using a plastic rake may be more beneficial
It's also important to use the proper size rake because it prevents you from having to bend and reach into areas you can't see
Be aware that using a larger rake than necessary can also be dangerous because it can cause unnecessary muscle straining.
Getting Ready
If you will be raking near trees with low hanging branches, then it's important to wear eye protection.
It's also vital that you wear the proper footwear. For example, if there are wet leaves, be sure to wear shoes with good tread
Wearing gloves will help prevent getting blisters on your hands
Be sure to apply a sunscreen and wear a hat to avoid any damage from the sun
Listening to Your Body
Do light stretching before and throughout to help reduce the strain on your muscles
If you feel any sort of pain, stop working and take a break
Remember to drink plenty of water
Disposing of Lawn Waste
If you put your leaves in a garbage can or garbage bag, do not overstuff them. Overstuffing causes the bags and cans to become awkward to carry or become too heavy. Heavy or awkward bags and cans can lead to overworking muscles
Don't try to carry more than one can or bag at a time
Go Back to Safety News
---