March is Ladder Safety Month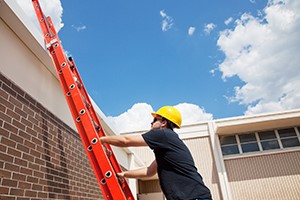 The American Ladder Institute (ALI) is sponsoring National Ladder Safety Month to raise awareness of the importance of using ladders properly and to decrease ladder-related injuries at home and at work.

This year's themes are:
March 1-7: Ladder Safety Training and Year-Round Partners
March 8-14: Ladder Safety at Work
March 15-21: Ladder Safety at Home
March 22-28: Ladder Inspection and Disposal
Each year, more than 300 people die from ladder-related accidents, while thousands more endure pain, disability, and long recovery time from their injuries. The ALI offers these tips to properly use ladders.
Use the right ladder for the job
Face the ladder when climbing, and never skip steps
The base of the ladder should be safely secured to prevent accidental movement inside or out
Maintain three points of contact when ascending and descending
Keep your center of gravity and body between the side rails. If you can't reach the spot you need, don't lean your body toward it. Climb down and move the ladder
Don't hold anything in your hands when ascending or descending
Only one person is allowed to be on a ladder at one time, unless the ladder is built for such use
Go Back to Safety News
---