Scaffolding Safety for Working at Heights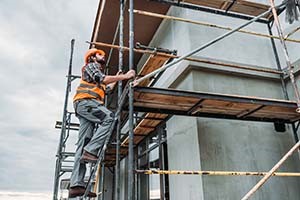 Scaffolding is a common sight on both city streets and construction sites alike. These important temporary structures on the outside of a building allow workers to build, repair, or clean. The systems are complex and provide both safety and convenience for the entire team, from masons to window installers.

Working on scaffolding is dangerous. According to the Bureau of Labor Statistics, there were over 4,500 injuries related to scaffolding in 2018. Maintaining a safe environment for these workers is essential. The Occupational Safety and Health Administration (OSHA) has established extensive rules to prevent serious injury and provides these helpful guidelines.
There are many different kinds of scaffolding. Under the direct supervision of a competent person, follow the manufacturer's instructions when erecting the scaffolding. OSHA defines a competent person as, "one who is capable of identifying existing and predictable hazards in the surroundings or working conditions, which are unsanitary, hazardous to employees, and who has authorization to take prompt corrective measures to eliminate them." Follow OSHA's guidelines for each type of scaffolding as well.
Scaffolds should only be set up on a firm foundation. Mud sills or base plates may be needed, depending on the condition of the surface.
Each scaffold and scaffold component must support without failure its own weight and at least four times the maximum intended load applied or transmitted to it.
Employers must provide fall protection for each employee on a scaffold more than 10' above a lower level.
All employees must be trained by a qualified person to recognize the hazards associated with the type of scaffold being used, and how to control or minimize these hazards. Training should be updated whenever substantial changes are made to the scaffold's structure or to the jobs that are to be performed.
Each scaffold platform and walkway must be at least 18" wide. When the work area is less than 18" wide, guardrails and/or personal fall arrest systems must be used.
Access the scaffolding via approved ladders, stair towers, ramps and walkways, or built-in pre-fabricated frames only.
Be aware of those working around you at all times.
To protect workers from falling hand tools and other small objects, install toe boards, screens, guardrail systems, debris nets, or barricades. Employees must wear hard hats.
Do not use damaged components or components that have exceeded their service life.
Postpone work in heavy rain, high winds, ice, and snow storms until the weather improves.
Go Back to Safety News
---