Know the Risks of Grain Handling and Storage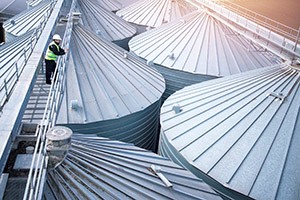 National Stand Up for Grain Safety Week will take place April 13-17, 2020. This year's theme is, "Small Changes, Big Impact."

According to Purdue University's Agricultural Safety and Health Program, there were 38 grain engulfment cases in the US in 2019. This was a 27% increase from 2018.

Grain engulfment can take place in bins, silos, trailers, boxes, and wagons. The risk increases when workers enter storage spaces alone, in facilities storing wetter corn, and when a changing workforce lacks agricultural background.
The Occupational Safety and Health Administration (OSHA) provides these guidelines to prevent engulfment:
De-energize and disconnect, lockout and tag, or block off all mechanical, electrical, hydraulic, and pneumatic equipment that presents a danger, particularly grain-moving equipment
Prohibit and prevent employees from walking down grain or other attempts to make grain flow
Train all workers on the specific hazardous work operations they are to perform when entering and working inside of grain bins
Prohibit and prevent worker entry into or below a bridging condition, or where grain is built up on the side of the bin
Grain should not be emptied or moved into or out of the bin while workers are inside
Before entry, test the air within a bin for oxygen comfort and the presence of hazardous gases
Provide each worker who is entering a bin from a level at or above stored grain, or when he/she will walk or stand on stored grain with a body harness. The body harness should have a lifeline that's positioned and of sufficient length to prevent him/her from sinking further than waist-deep in grain
Provide employees with rescue equipment, such as winch systems, that are specifically suited for rescue from the bin
Station an observer who's equipped to provide assistance and perform rescue operations outside the bin
Ensure that communications (visual, vocal, and signal line) are maintained between the observer and those who entered the bin
Issue a permit each time a worker enters a bin, unless the employer is present during the entire entry operation. The permit must certify that the above precautions have been implemented before workers enter
Go Back to Safety News
---