1-800-571-4646
For sales & customer support
7:30 am - 7:00 pm ET, Mon-Fri
Northern Safety Co., Inc.
PO Box 4250, Utica, NY 13504-4250
Phone: 1-800-571-4646
Fax: 1-800-635-1591
Northern Safety & Industrial
Safe Forklift Operation Checklist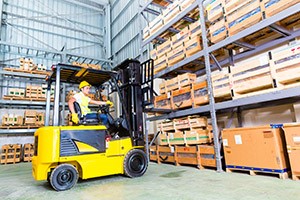 Forklifts are a warehouse staple. They move heavy objects, load and unload trucks, and raise and lower pallets. Their versatility is unmatched.

Because they're so commonplace, a worker might think that they pose no threat to their safety. However, they can cause collisions, falls, tip-overs, and struck-by accidents.

The Occupational Safety and Health Administration (OSHA) gives the following guidelines for safe forklift use.
Operate the forklift according to the manufacturer's instructions
If equipped, always wear a seatbelt
Never exceed the rated load and ensure it's stable and balanced
Don't raise or lower the load when traveling
Keep a safe distance from platform and ramp edges
Be aware of other vehicles in the work area
Have clear visibility of the work area and be sure you have enough clearance when raising, loading, and operating the forklift
Use proper footing and the handhold, if available, when entering the lift
Use horns at cross aisles and obstructed areas
Watch for pedestrians
Observe the speed limit
Don't give rides or use the forks to lift people
Go Back to Safety News
---