1-800-571-4646
For sales & customer support
7:30 am - 7:00 pm ET, Mon-Fri
Northern Safety Co., Inc.
PO Box 4250, Utica, NY 13504-4250
Phone: 1-800-571-4646
Fax: 1-800-635-1591
Northern Safety & Industrial
OSHA & CDC Release Interim COVID-19 Guidance for Meatpacking Industries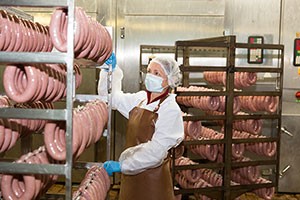 The Occupational Safety and Health Administration (OSHA) and the Centers for Disease Control and Prevention (CDC) have released joint guidance relating to the COVID-19 virus for workers and employers in beef, pork, and poultry operations.

The coronavirus has affected many meatpacking and processing facility workers in several US states. While the meat products these workers handle don't expose them to the coronavirus, close contact with co-workers may contribute to potential exposure.

The new guidelines include information regarding:
Cleaning of shared meatpacking and processing tools
Screening employees for the coronavirus before they enter work facilities
Managing workers who are showing symptoms of the coronavirus
Implementing appropriate engineering, administrative, and work practice controls
Using proper personal protective equipment
Practicing social distancing
"As essential workers, those in the meatpacking and processing industries need to be protected from coronavirus for their own safety and health. OSHA's newest guidance document outlines steps employers can take to provide a safe and healthy workplace," Principal Deputy Assistant Secretary of Labor for Occupational Safety and Health Loren Sweatt said.
Go Back to Safety News
---