OSHA Releases Information on Proper Workplace Respirator Use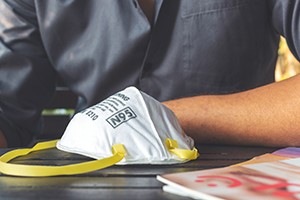 Millions of people across the country wear a respirator daily as part of their personal protective equipment (PPE). The Occupational Safety & Health Administration (OSHA) has published a new video and poster for both employers and workers, showing them how to correctly wear and remove a respirator.
Both the video and poster break the process into seven steps.
Wash hands with soap and water or sanitizer containing at least 60% alcohol content.
Inspect respirator for damage.
Cover mouth and nose with the respirator and pull strap over the head so that it rests at the back of the head. A second strap should rest at the back of the neck. Use the nose clip to mold the respirator to the shape of the nose.
Adjust the respirator by placing both hands over it, and then inhale and exhale. Readjust the straps if air leaks from the respirator's edges.
Avoid touching the respirator when wearing it.
Remove the respirator by grabbing the strap(s) from behind. Don't touch the front.
If the respirator doesn't need to be reused due to supply shortages, discard it in a closed bin receptacle.

The video and poster are available in English and Spanish versions.
Go Back to Safety News
---