Transportation Tips for the Oil & Gas Industry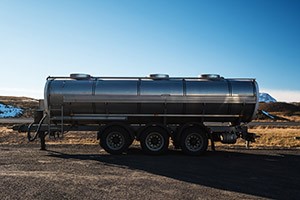 The oil and gas industry is a vital part of the US economy. Employment in this field requires vast knowledge, expertise, and teamwork. This hard work is rewarding, yet often poses difficult obstacles.
One obstacle is location. Sometimes, the work takes place in remote areas with inadequately maintained roads. Furthermore, the wide range of equipment associated with the oil and gas industry is usually large and heavy. What needs to be done to transport, load, and unload this equipment safely?

The Occupational Safety and Health Administration (OSHA) offers some suggestions for staying safe during these operations.
Rather than working on an uneven loading surface, ensure the trailers are parked on a level surface and always secure the trailer to the pulling unit.
Use a spotter located a safe distance away to help align the equipment and prevent it from slipping.
Loads should be tied down with proper devices and should be inspected before and during transport.
To avoid struck-by accidents, use ratchet-style load binders.
Keep equipment at least 10' away from power lines.
For oversized loads, use an escort vehicle.
Ensure that any access roads have been properly prepared before attempting to drive on them.
To avoid winch accidents, be certain that all cables have been inspected prior to use. Workers, especially swampers, must stay out of the zone in which any cable could fall or break.
Utilize experienced signal personnel near areas with pedestrian traffic.
Go Back to Safety News
---