Fire Safety and Prevention – Make it a Priority at Work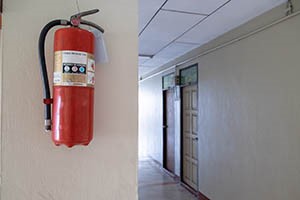 Preventing injuries and destruction that result from workplace fires must be a priority for you, your employer, and your colleagues. Having a fire prevention policy in place, along with choosing the right equipment to prevent and fight fires are crucial elements to ensuring everyone's safety.

A clear, comprehensive, and well-communicated fire prevention policy is the basis of your workplace fire prevention program. It gives purpose and direction to fire prevention plans, procedures, and training. An effective fire prevention policy must cover:

Alarm systems
Fire suppression systems, such as automatic sprinkler systems
Fire extinguishers – including choosing the right one and training workers on how to use them
Common fire hazards
Fire reporting procedures
Evacuation procedures – everyone should know at least 2 exit routes from their work area
Safety precautions for preventing workplace fires
Fire-fighting rules – when to fight, when to take flight
Fire safety training – what, when, who, and how often
Emergency response teams – fire brigades, emergency shutdown procedures, medical emergency first responders, etc.
Fire drills are also an important element of your fire prevention policy. Drills should be conducted every 6 to 12 months, depending on the needs of your facility. An employee briefing should be conducted after the drill to evaluate the effectiveness of the drill.
Go Back to Safety News
---