How to Launder Your Cloth Masks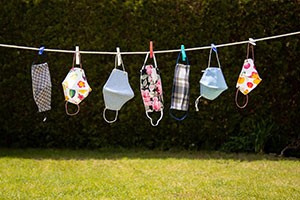 The Centers for Disease Control and Prevention recommend face coverings as a way to help prevent the spread of COVID-19. This doesn't mean that you wear the same mask day in and day out. Or shove one in a coat pocket for whenever you need it. Or worse, grab one off the floor of your car when you get where you're going.

Washing:
Cloth masks should be washed whenever it gets dirty, or at least daily, according to the CDC. You can include your mask in a washing machine load with your regular laundry, using your normal detergent. Washing by hand is also appropriate, but it's important to rinse thoroughly to remove all detergent.
Drying:
Masks can be dried in a warm or hot dryer. If air drying, hang in direct sunlight or dry flat.
Go Back to Safety News
---