1-800-571-4646
For sales & customer support
7:30 am - 7:00 pm ET, Mon-Fri
Northern Safety Co., Inc.
PO Box 4250, Utica, NY 13504-4250
Phone: 1-800-571-4646
Fax: 1-800-635-1591
Northern Safety & Industrial
Steps for Tornado Recovery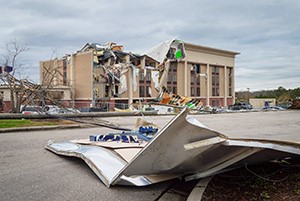 The National Severe Storms Laboratory (NSSL) reports that around 1,200 tornados strike the US annually. Most tornados form out of severe thunderstorms or hurricanes and have winds that can exceed 300 miles per hour. While the average tornado itself can only travel at a pace of 10-20 miles per hour and is only on the ground for about 5 minutes, the damage can be severe, costly, and sometimes life-long.
Being prepared for a tornado is crucial, but knowing what to do in the aftermath is just as important. Many of the same actions should be taken whether your home or your business has been damaged or destroyed. Follow these tips on how to keep yourself and others safe after a tornado.
Communicate. Notify essential contacts, including employees, emergency response contractors, insurance carriers, and any other primary or emergency contacts.
Assess the Damage. Check for any and all property damage. Don't enter any buildings until you receive authorization that it is safe to do so. Turn off the gas at the outside main valve and turn off the electricity at the main fuse box or circuit breaker in case of gas leaks or electrical damage. Shut off any damaged and/or non-main waterlines to nonessential or unoccupied rooms. When walking through rubble, wear pants, a long-sleeved shirt and sturdy shoes. Once inside, document the loss, take photos, and identify any potential hazards.
Begin Maintenance and Clean-up. Once it has been determined that the facility is safe to enter, you can start the reclamation process. The majority of destruction caused by tornados will involve rain and wind elements. If not addressed quickly, water damage can be extremely costly and dangerous. To avoid higher costs, clean up the wreckage as quickly as possible.
Execute Temporary Repairs. Board up windows that have been blown out, use tarps and/or boards to secure the roof and minimize further damage, and consider adding temporary security to protect any expensive equipment.
Keep Tabs on Costs. It's extremely important for your business and insurance carrier that people in the organization track any costs associated with the claim process. You have to readily identify and capture expenses related to the claim.
Final Repairs/Replacement. Once all parties have come to an agreement on services and funds required for reconstruction, you can start to finalize the repairs.
Go Back to Safety News
---