1-800-571-4646
For sales & customer support
7:30 am - 7:00 pm ET, Mon-Fri
Northern Safety Co., Inc.
PO Box 4250, Utica, NY 13504-4250
Phone: 1-800-571-4646
Fax: 1-800-635-1591
Northern Safety & Industrial
How to Recover Your Business After a Landslide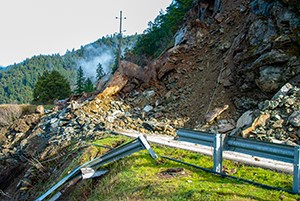 Landslides have the highest frequency of occurrence between November and March, and knowing how they can affect you and your business is important. The devastating harm caused by landslides include broken electrical, water, gas, and sewage lines, structural damages, and disrupted roadways and railways, and costs around $1 billion each year in the US alone. If you are in a landslide prone area, planning ahead could alleviate the stress of recovery.
The Colorado Small Business Development Center (CSBDC) and United States Geological Survey (USGS) have developed guidelines and an outline to help employers create an Emergency Response Plan (ERP). They point out that simple tasks such as knowing if you're in an area prone to landslides, locating important documents, preparing shutdown procedures, and gathering supplies and a first aid kit can give you peace of mind.
If your business is impacted by a natural disaster like a landslide, the first few days are crucial, and knowing what to do will be imperative.
Contact all employees and anyone else on-site to make sure they're safe. Then, you can move on to verify how physical assets and key business processes have been affected.

Assess any and all damage to your property. Start with the structure of the building, then move onto equipment, inventory, and other areas of the business. Determining whether the space can be used while repairs are being made will impact the reopening timeline.

Keep your customers, employees, vendors, and the community informed about your schedule.
Property damage from landslides take a toll on US communities each year. Making sure your business is equipped to handle the aftermath of a landslide is key to ensure its reopening. Ease the restoration process by staying informed and prepared.
Go Back to Safety News
---