1-800-571-4646
For sales & customer support
7:30 am - 7:00 pm ET, Mon-Fri
Northern Safety Co., Inc.
PO Box 4250, Utica, NY 13504-4250
Phone: 1-800-571-4646
Fax: 1-800-635-1591
Northern Safety & Industrial
Keep New Employees Safe from Slips, Trips, and Falls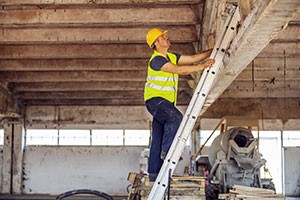 People entering the workforce or starting a new job have so much to learn, from co-workers' names to sifting through their benefits package to jobsite safety. Among the safety topics is preventing slips, trips, and falls. These incidents—commonly caused by spills, ice and snow, rain, loose mats, rugs, and stepladders—can be avoided with the proper knowledge and training.
One of the easiest ways to prevent these accidents is wearing the appropriate footwear. Workplace dress codes should mention the type of shoes that are acceptable for the job so new employees can be prepared.
Ladders are common in many workplaces, and safe use is extremely important in keeping employees out of harm's way. The National Institute for Occupational Safety and Health (NIOSH) has provided some ladder safety tips:
- Before using a ladder, be sure that it opens fully
- Make sure the extensions are completely locked with the legs on a flat, non-slip surface
- Clean off any slippery material on the rungs, steps, and/or feet
- Be sure to stay under the load limit indicated on the ladder
- Maintain three points of contact as you ascend and descend
Keeping floors and walkways clean and clear is vital to maintaining a safe workplace.
- Make sure your employees know how to use cleaning products, and don't use anything that could make the floor slippery
- Post caution signs when the floors are wet
- Clear walkways, stairs, and lobbies of anything that could be considered a tripping hazard, such as cords, wires, empty boxes, and general clutter
- Use handrails when walking up and down stairs
- Ensure floor mats are never wrinkled or bunched up
New employees are essential to the workforce, and keeping them educated about slips, trips, and falls is vital.

Go Back to Safety News
---